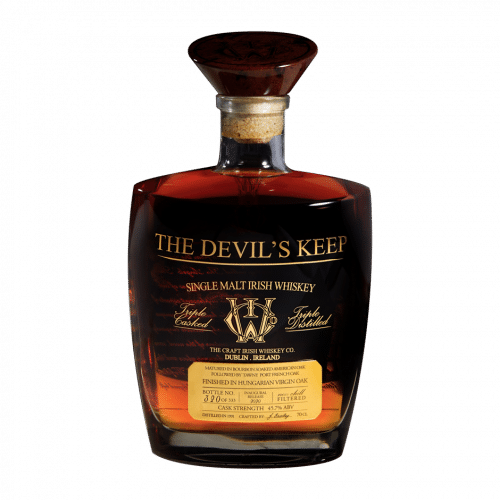 A UNIQUE SINGLE MALT
€14,310
Join The Waitlist
Crafted from water, wood, expertise, and time, our Irish single malt whiskey stands as a pinnacle of unmatched rarity and supreme excellence. This extraordinary creation, distilled in 1991 and matured to perfection, emerges as an exceptional triple-distilled and triple-casked masterpiece. With only 333 bottles in a sold-out limited release, this devilishly distinguished whiskey is a testament to meticulous craftsmanship and exceptional taste.
Sensory. Elemental. Esoteric.
Available at Selfridges.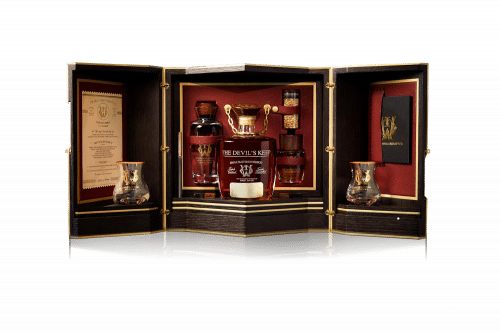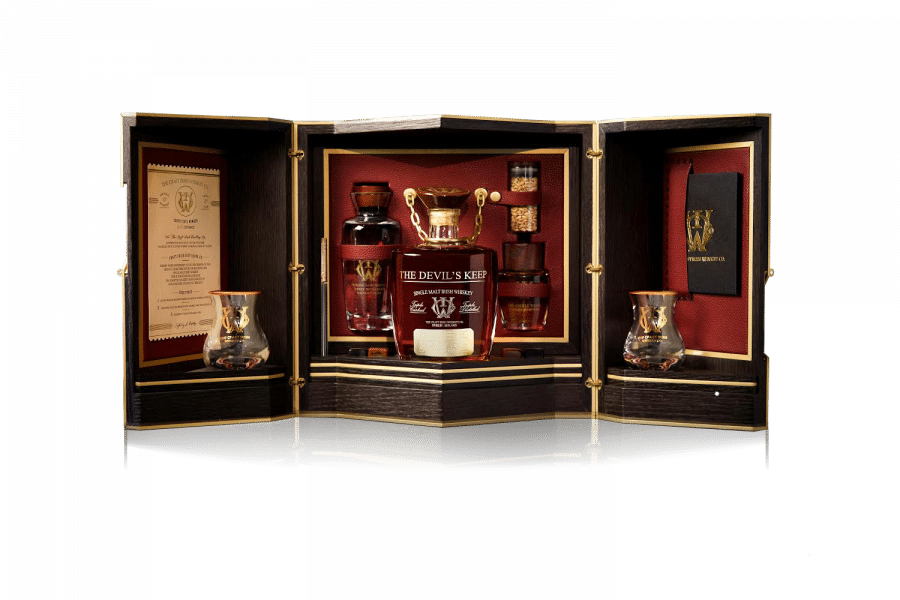 ---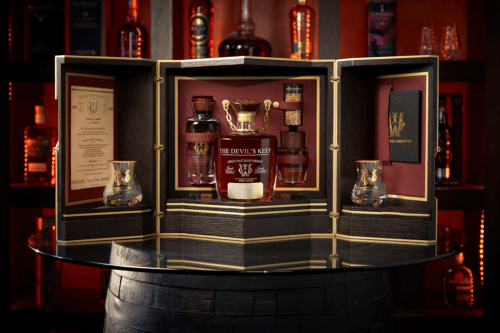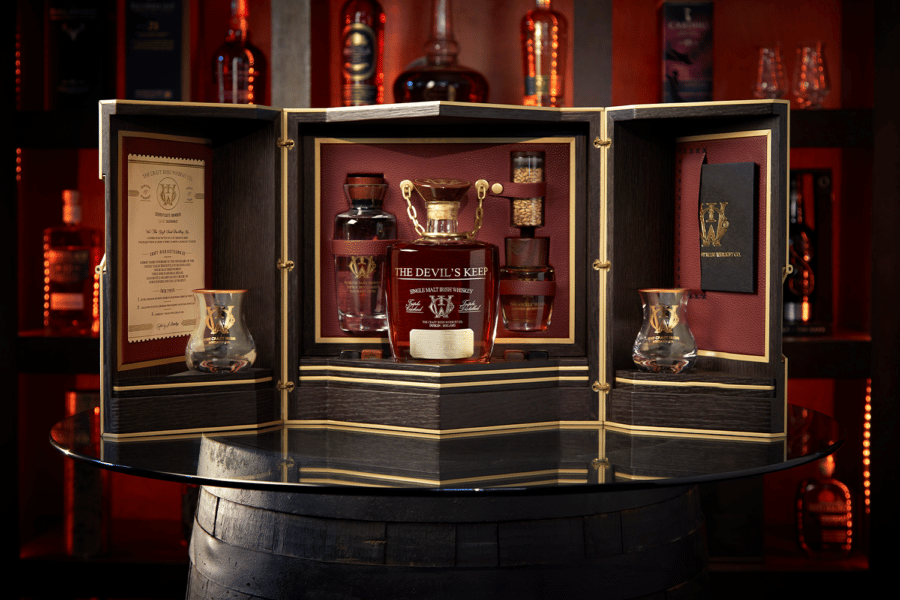 SIGHT
A multi award-winning design awaits. Revered, renowned.
Unlock the Devil's Chest to release the unearthly beauty within. The brass glows with temptation. Shadow and light interplay in a dazzling dance with the Devil.
---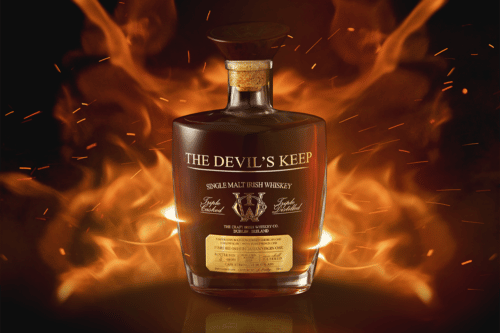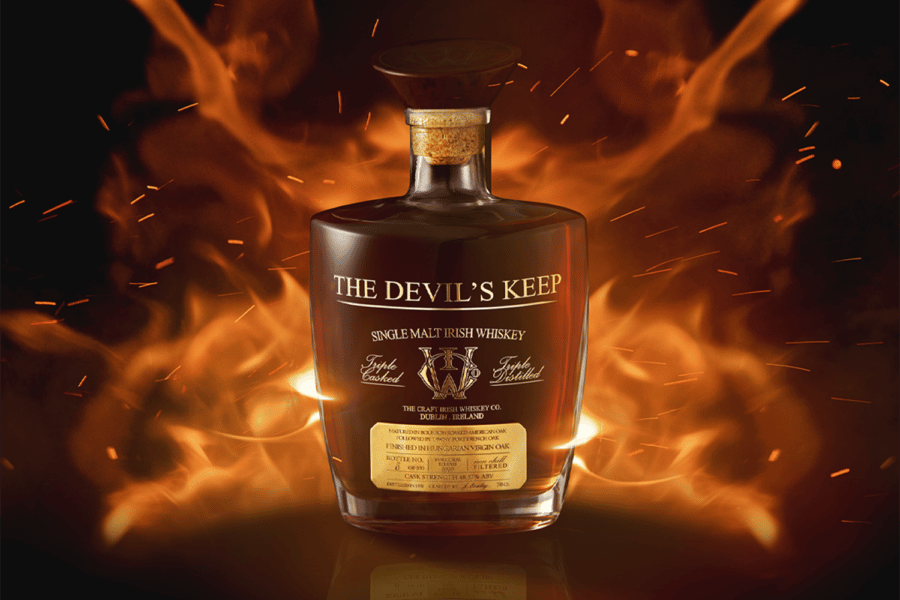 SOUND
The Devil whispers in your ear. Crystal, obsidian, water and whiskey play together in harmonic unity. The Devil's Keep cascades over semi-precious obsidian whiskey stones; the sound of pure luxury.
---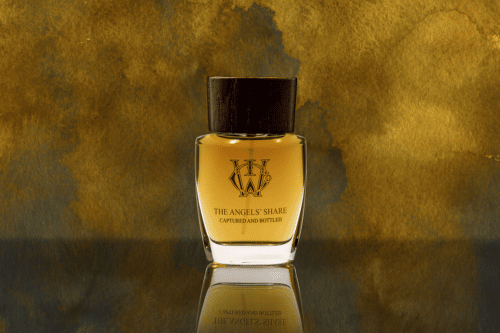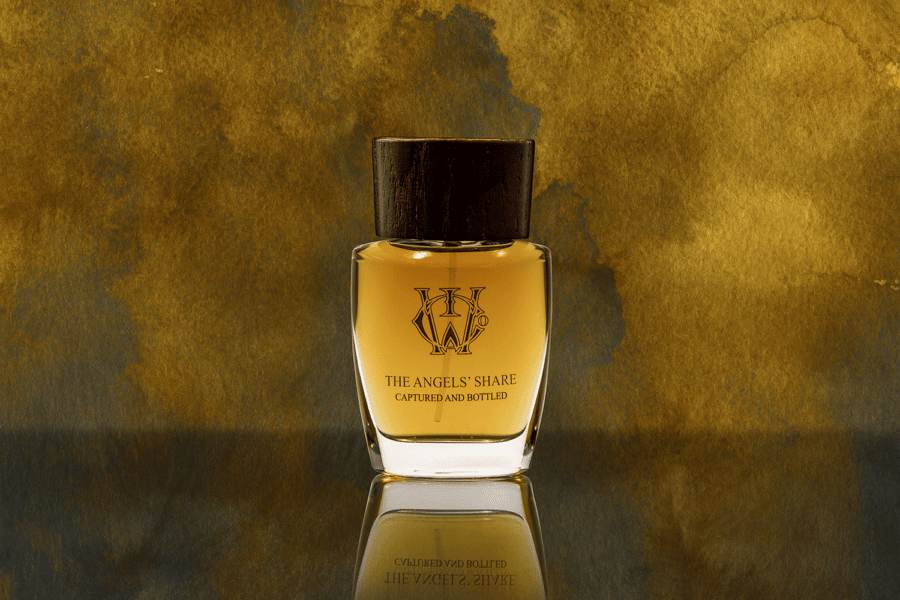 SCENT
Once reserved exclusively for those who walked the halls of whiskey under bond, The Devil's Keep offers 'The Angels' Share'. Released as the whiskey evaporates over time, the aged oak and creamy vanilla has been bottled for the first time.
---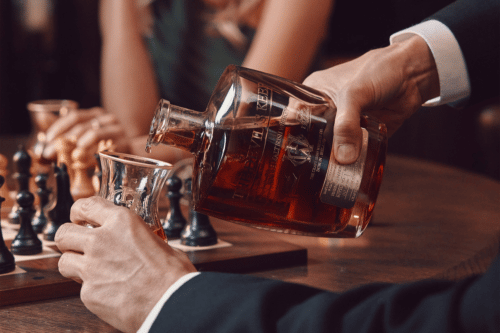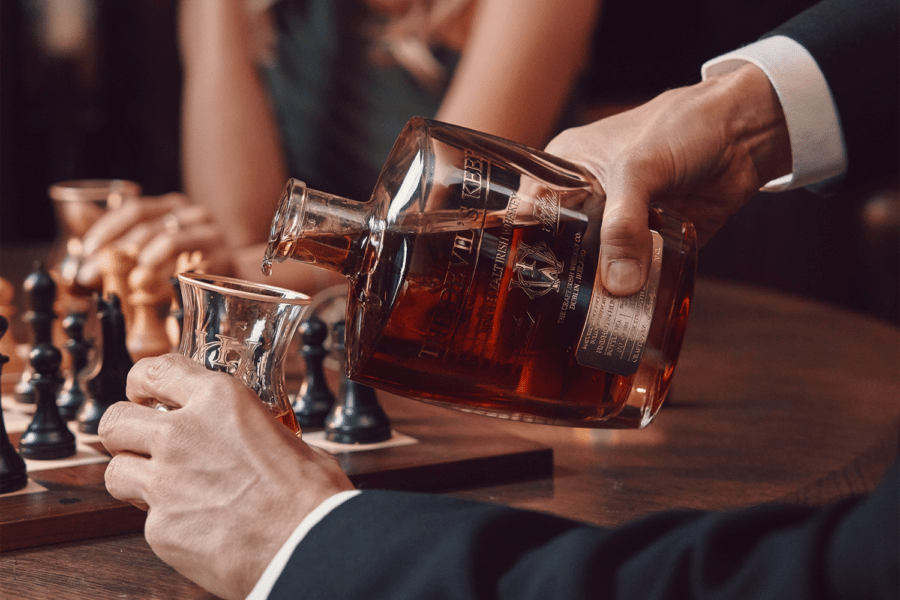 TOUCH
Masterfully crafted from aged oak and lustrous calfskin. Dark oak frames a stage enveloped in leather as soft as silk. Give way to temptation; possess the Devil.
---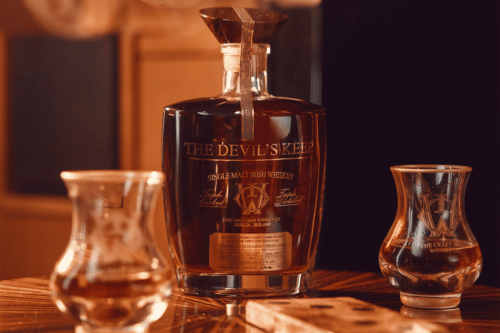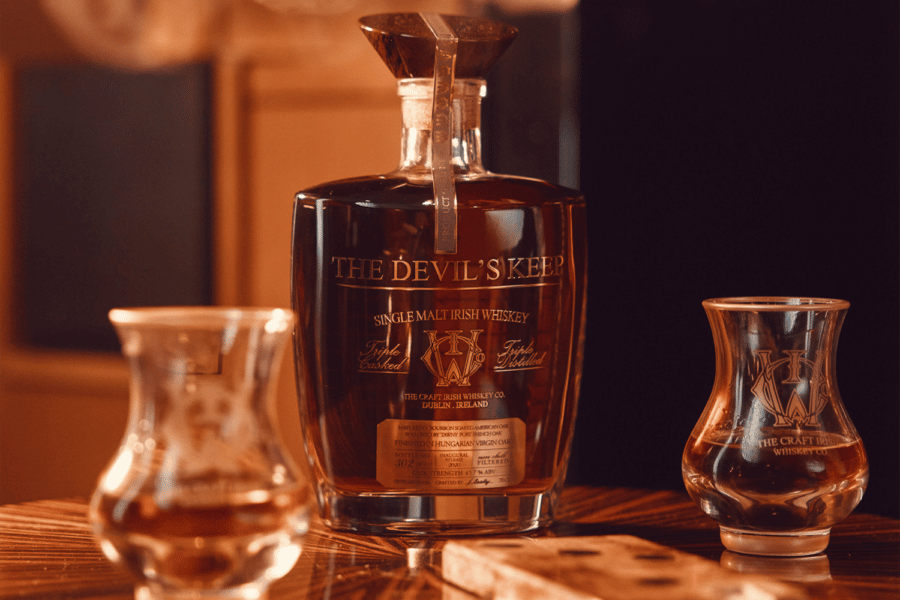 TASTE
Nose: Rich aromas of a traditional Christmas cake and Vermont maple syrup lead into powerful notes of ripe banana and sherry-soaked raisins with hints of dark chocolate adding depth.
Palate: Sweet golden honey mingles with Amarone and accents of dark cherries to add a velvety softness balanced by a dusting of rich dark chocolate to round off the palate. Rich and warming, yet fresh and well-balanced, with a subtle sweetness and a rich texture.
Finish: A long and viscous finish, with the lingering warmth of maple syrup and chocolate. Rich and oily, but not overwhelmingly so, and underpinned with a slightly dry finish, providing an indulgent and inimitable impression that remains on the taste buds.
---




By Master Of Whiskey, Jay Bradley
Creating The Devil's Keep demanded exceptional precision. Seeking a symphony of flavours – chocolate, leather, tobacco, and campfire smoke – with a score above 9.1 was no small task.
Reviving Irish whiskey's global status required the extraordinary. Over the years, The Devil's Keep emerged from Bourbon to French Oak casks that previously held Tawny Port, delivering essential sweetness.
Refining through tastings, Pedro Ximenez casks added richness, yielding a 9.1-scored profile with chocolate, raisins, and leather. To balance, custom-toasted Hungarian Oak barrels brought a gentle smokiness. After 14 days, it was ready. Rejecting age norms, I believe in taste-driven perfection.
The outcome is clear – The Devil's Keep is a once-in-a-lifetime masterpiece, earning remarkable recognition.








By Tiago Russo, Chief Design Officer
Crafting The Devil's Keep's design took an unconventional path, fusing Jay Bradley's whiskey expertise with my innovative design approach. With Jay's vision to create the finest, most luxurious Irish whiskey, the challenge was set.
A blank canvas, high stakes – a rare chance for deep project immersion and creative freedom. The goal was an immersive experience, weaving sensorial elements to convey the whiskey's significance. Each detail had to stand alone, such as the dark oak ambience, geometric gold accents, and the rich burgundy interior, all enhancing the whiskey's essence.
The scent, colour, flavour, texture, sound – The Devil's Keep engages every sense. It's not just about taste but feeling the passion behind this ultra-rare collectable. The true design melds usability, pleasure, and meaningful interaction, epitomised by The Devil's Keep. Its historic Gold win at the A'Design Awards 2021 attests to its excellence and dedication, a pinnacle achievement.




AWARDS




After selling out in record time and claiming the title as the most expensive inaugural whiskey sold at auction, The Devil's Keep is now winning awards across the board for taste, design and packaging.
World's Best Single Malt Irish whiskey from the World Whiskies Awards 2022, Gold from The A'Design Awards, a Gold medal from the IWSC Competition, a win from the Luxury Packaging Awards and Gold from The Spirits Business Luxury Masters Awards honour the obsessive perfectionism that crafted The Devil's Keep.
Triple distilled and triple casked in American, French and Hungarian Oak for peerless bourbon, tawny port and stave-toasted accents.
A sophisticated interplay of climate, cask and time. An alchemy to usher in a new golden age of craft whiskey from Ireland. Respectful of tradition but charting its own path; this is an epoch-defining whiskey of note.
EXPERIENCE THE DEVIL'S KEEP
Complementing the rare, triple distilled 1991 whiskey, The Devil's Keep's box reveals two expertly engineered Érimón glasses, a carafe of Irish spring water, semi-precious obsidian whiskey stones from the mountains of Armenia, a 24k karat gold water pipette and an atomizer containing the essence of the whiskey captured by expert perfumer, Sarah McCartney.