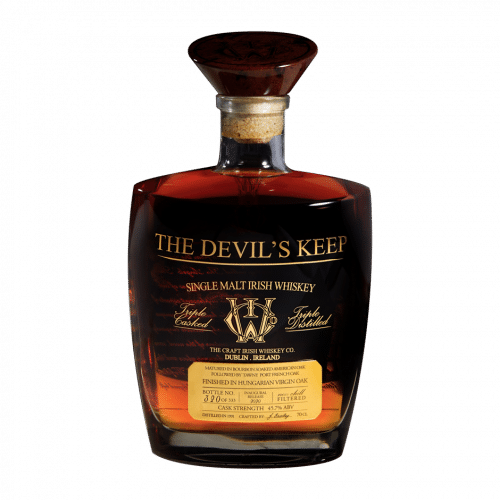 A UNIQUE SINGLE MALT
Join The Waitlist
An alchemy of water, wood, skill and time creates a whiskey of unparalleled rarity and sublime quality. One of the finest whiskeys ever made; the devil is in the detail.
Sensory. Elemental. Esoteric.
The Devil exacts the highest price for an exceptional whiskey; one of the rarest and oldest triple distilled and triple casked single malt Irish whiskeys. Distilled in 1991 and matured in the finest casks money can buy; a sold-out limited inaugural release of just 333 bottles.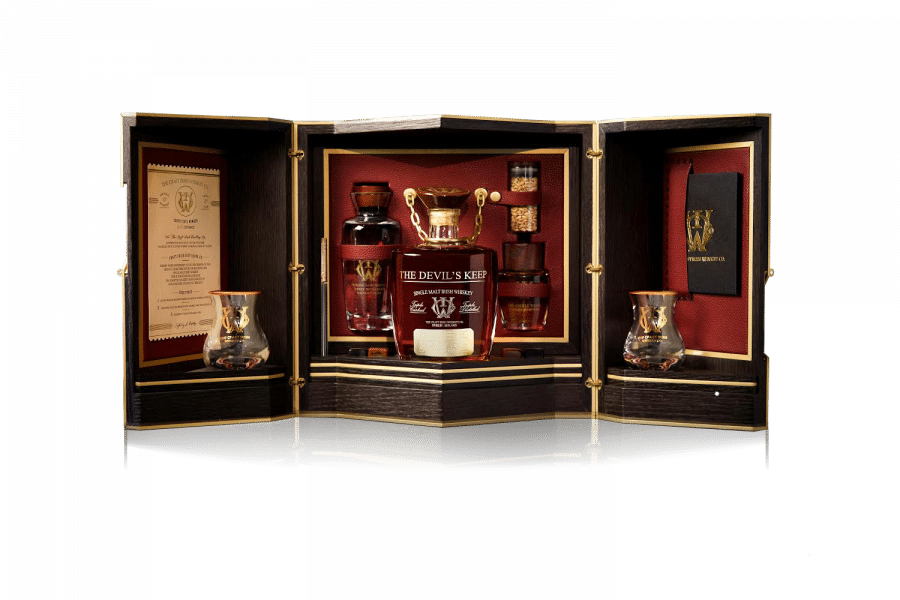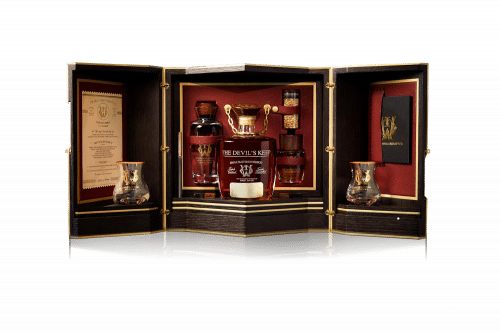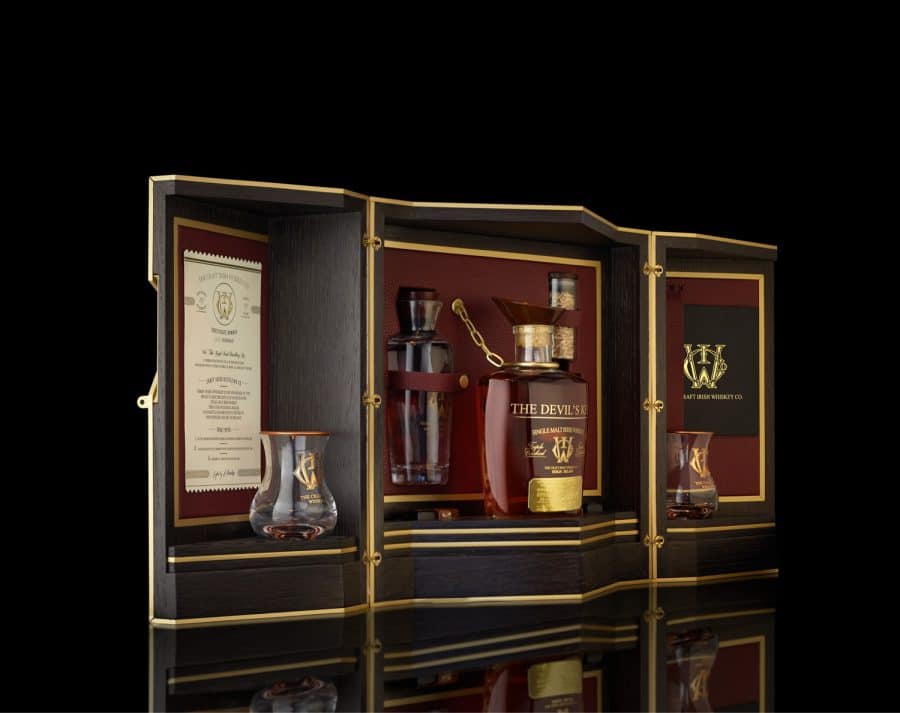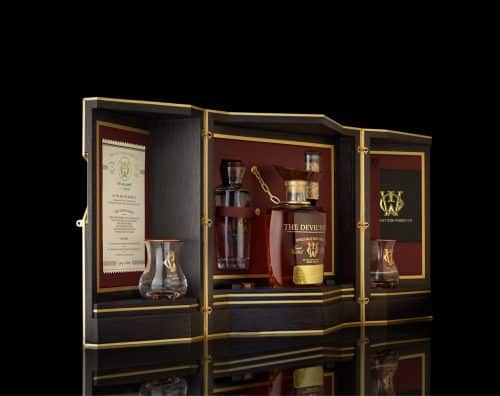 Sensory
SIGHT
A multi award-winning design awaits. Revered, renowned.
Unlock the Devil's Chest to release the unearthly beauty within. The brass glows with temptation. Shadow and light interplay in a dazzling dance with the Devil.
---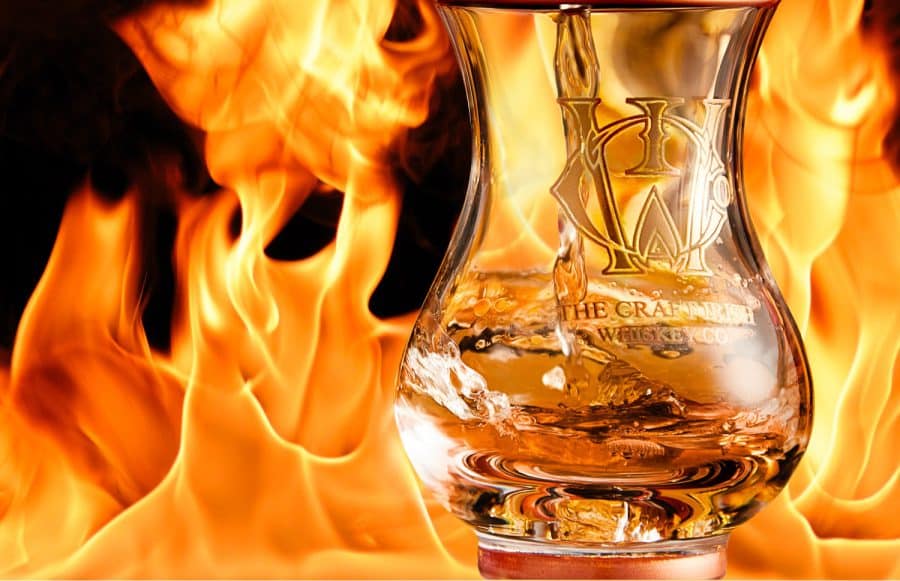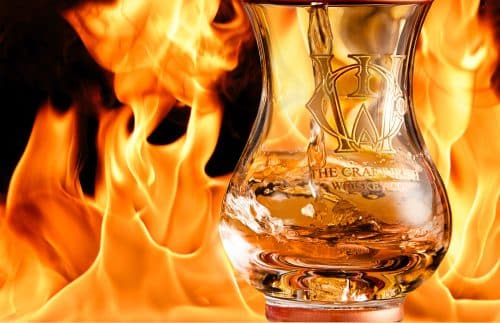 Sensory
SOUND
The Devil whispers in your ear. Crystal, obsidian, water and whiskey play together in harmonic unity. The Devil's Keep cascades over semi-precious obsidian whiskey stones; the sound of pure luxury.
---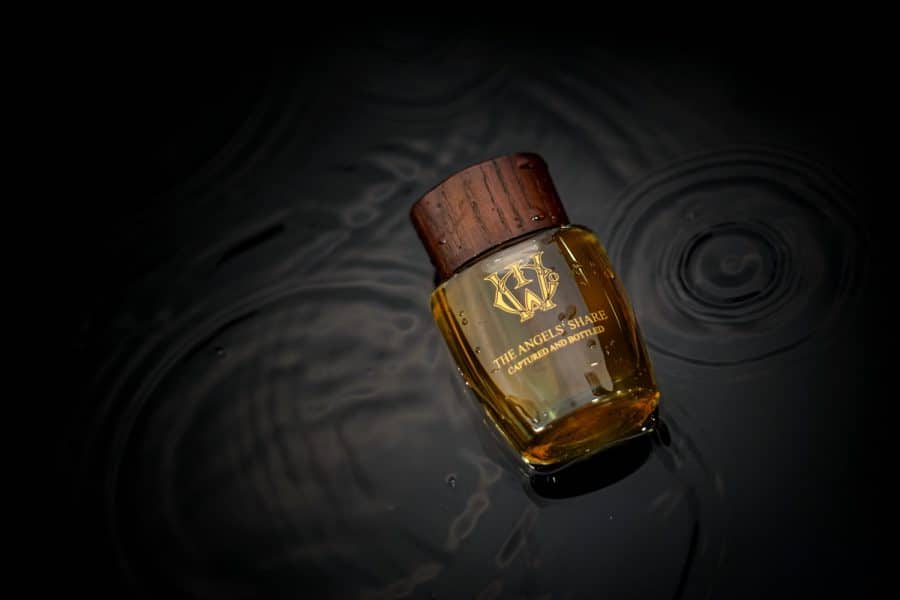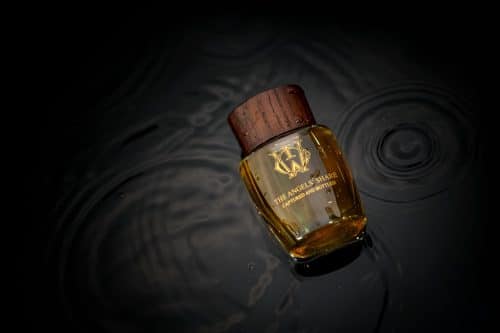 Sensory
SCENT
Once reserved exclusively for those who walked the halls of whiskey under bond, The Devil's Keep offers 'The Angels' Share'. Released as the whiskey evaporates over time, the aged oak and creamy vanilla has been bottled for the first time.
---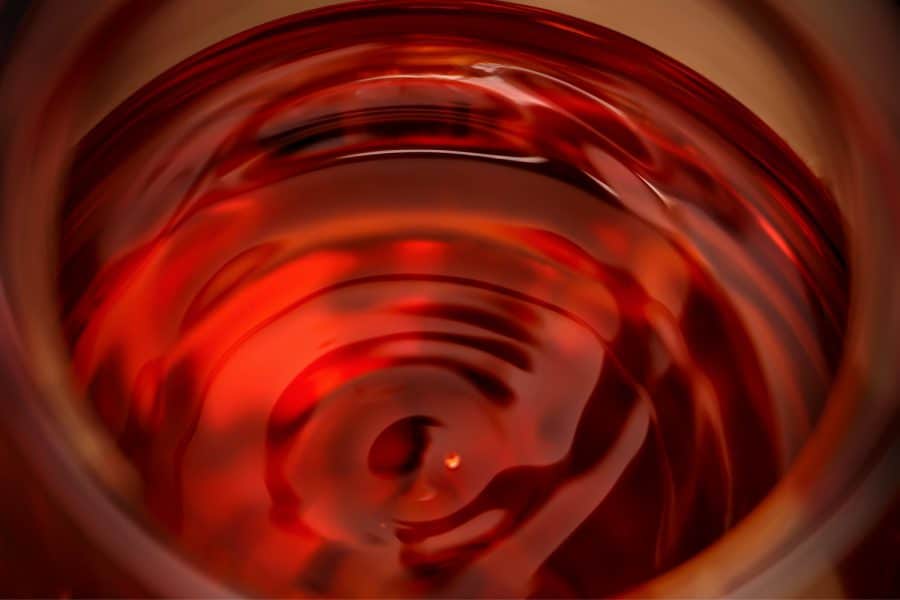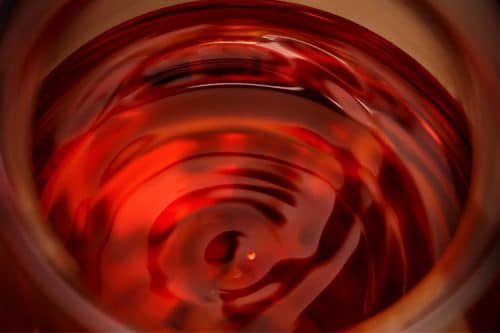 Sensory
TOUCH
Masterfully crafted from aged oak and lustrous calfskin. Dark oak frames a stage enveloped in leather as soft as silk. Give way to temptation; possess the Devil.
---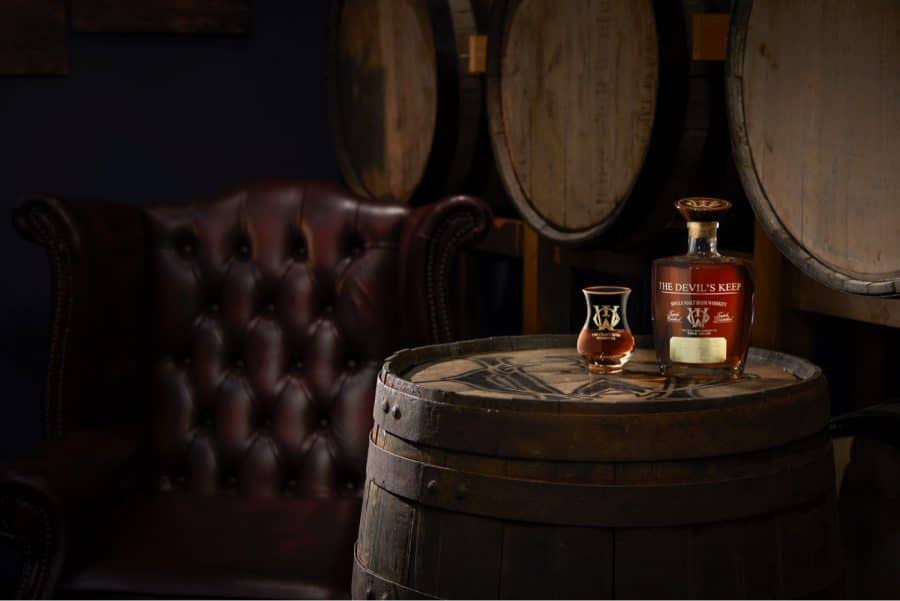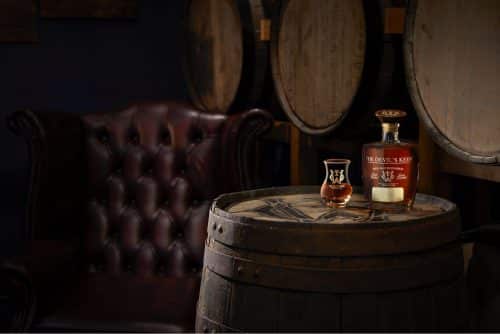 Sensory
TASTE
Nose: Rich aromas of a traditional Christmas cake and Vermont maple syrup lead into powerful notes of ripe banana and sherry-soaked raisins with hints of dark chocolate adding depth.
Palate: Sweet golden honey mingles with Amarone and accents of dark cherries to add a velvety softness balanced by a dusting of rich dark chocolate to round off the palate. Rich and warming, yet fresh and well-balanced, with a subtle sweetness and a rich texture.
Finish: A long and viscous finish, with the lingering warmth of maple syrup and chocolate. Rich and oily, but not overwhelmingly so, and underpinned with a slightly dry finish, providing an indulgent and inimitable impression that remains on the taste buds.
---
AWARDS




After selling out in record time and claiming the title as the most expensive inaugural whiskey sold at auction, The Devil's Keep is now winning awards across the board for taste, design and packaging.
Gold from The A'Design Awards, a Gold medal from the IWSC Competition, a win from the Luxury Packaging Awards and Gold from The Spirits Business Luxury Masters Awards honour the obsessive perfectionism that crafted The Devil's Keep.
Triple distilled and triple casked in American, French and Hungarian Oak for peerless bourbon, tawny port and stave-toasted accents.
A sophisticated interplay of climate, cask and time. An alchemy to usher in a new golden age of Irish whiskey. Respectful of tradition but charting its own path; this is an epoch-defining whiskey of note.
EXPERIENCE THE DEVIL'S KEEP
Complementing the rare, triple distilled whiskey, The Devil's Keep's box reveals two expertly engineered Érimón glasses, a carafe of Irish spring water, semi-precious obsidian whiskey stones from the mountains of Armenia, a 24k karat gold water pipette and an atomizer containing the essence of the whiskey captured by expert perfumer, Sarah McCartney.