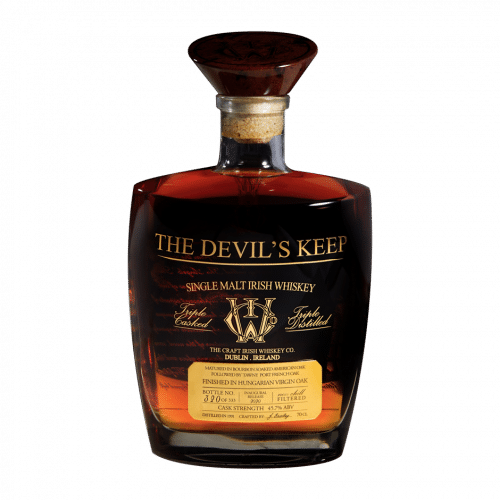 A UNIQUE SINGLE MALT
Join The Waitlist
An alchemy of water, wood, skill and time creates an Irish single malt whiskey of unparalleled rarity and sublime quality. One of the finest whiskeys ever made; the devil is in the detail.
Sensory. Elemental. Esoteric.
The Devil exacts the highest price for an exceptional whiskey; one of the rarest and oldest triple distilled and triple casked single malt Irish whiskeys. Distilled in 1991 and matured in the finest casks money can buy; a sold-out limited inaugural release of just 333 bottles.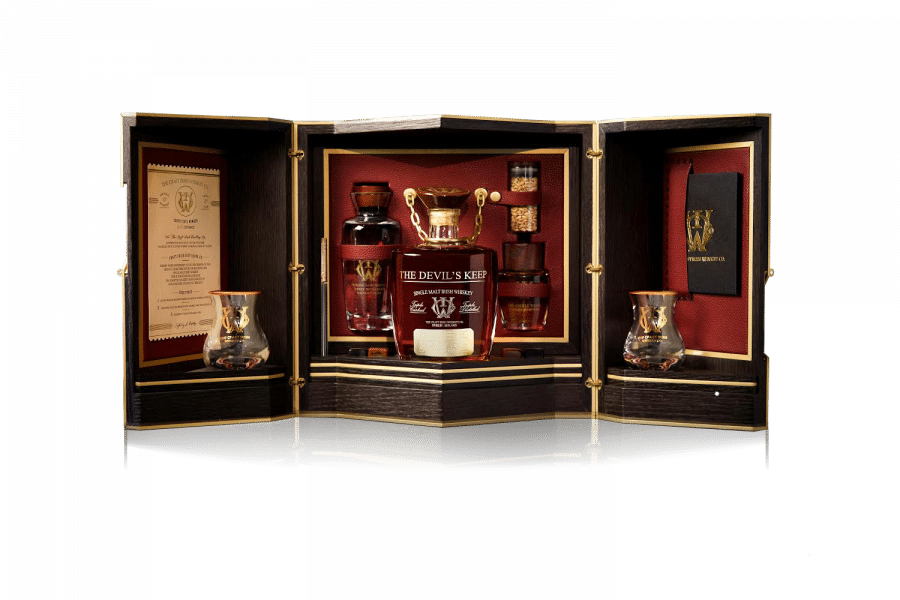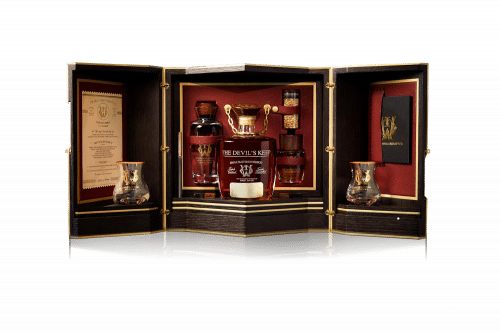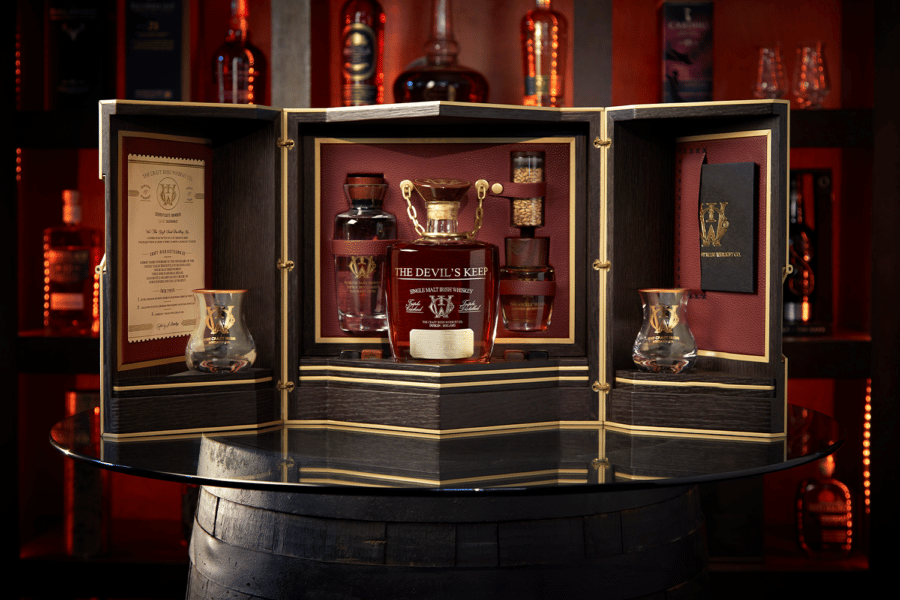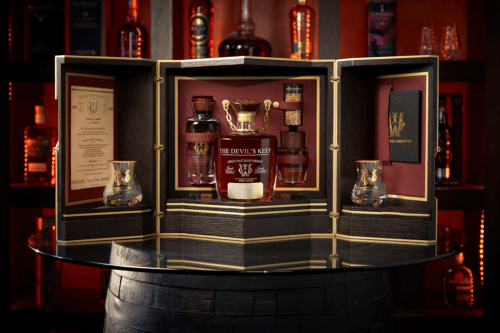 SIGHT
A multi award-winning design awaits. Revered, renowned.
Unlock the Devil's Chest to release the unearthly beauty within. The brass glows with temptation. Shadow and light interplay in a dazzling dance with the Devil.
---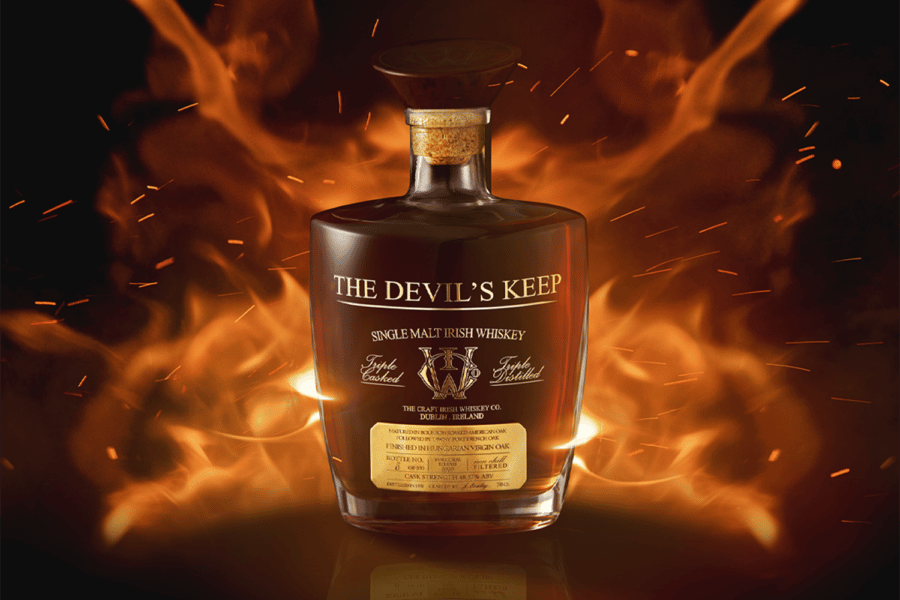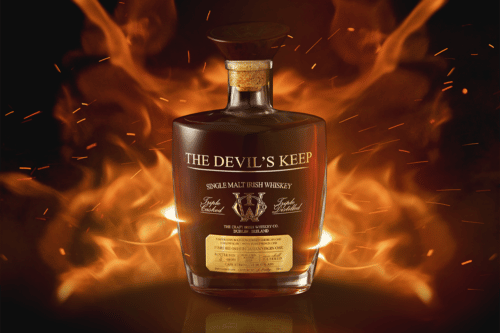 SOUND
The Devil whispers in your ear. Crystal, obsidian, water and whiskey play together in harmonic unity. The Devil's Keep cascades over semi-precious obsidian whiskey stones; the sound of pure luxury.
---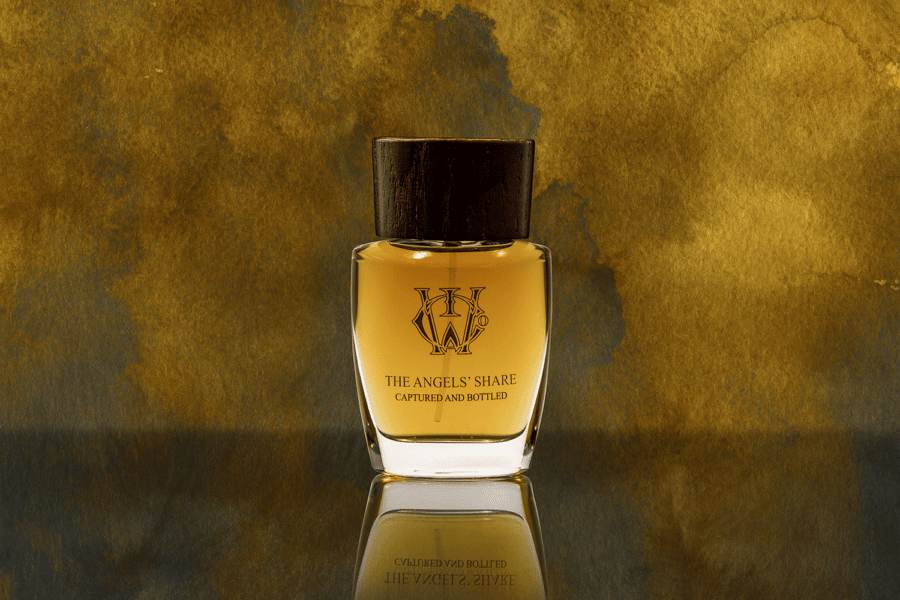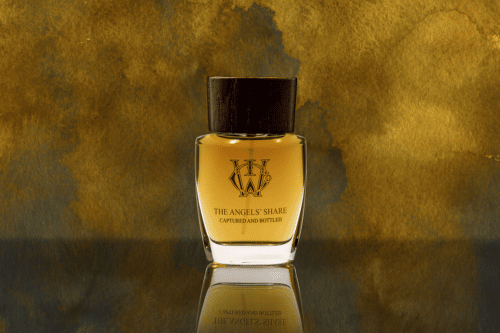 SCENT
Once reserved exclusively for those who walked the halls of whiskey under bond, The Devil's Keep offers 'The Angels' Share'. Released as the whiskey evaporates over time, the aged oak and creamy vanilla has been bottled for the first time.
---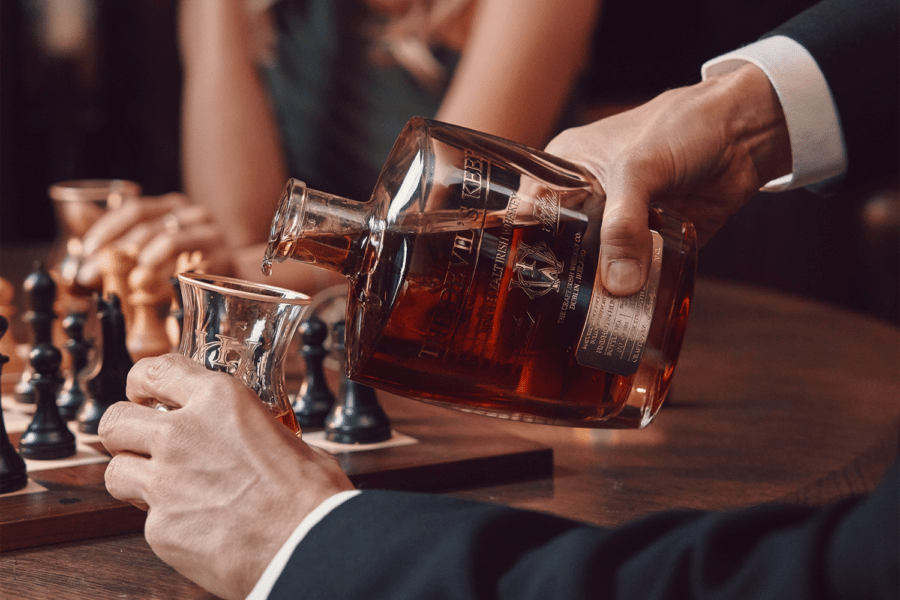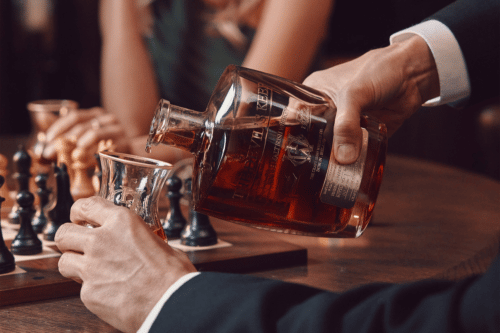 TOUCH
Masterfully crafted from aged oak and lustrous calfskin. Dark oak frames a stage enveloped in leather as soft as silk. Give way to temptation; possess the Devil.
---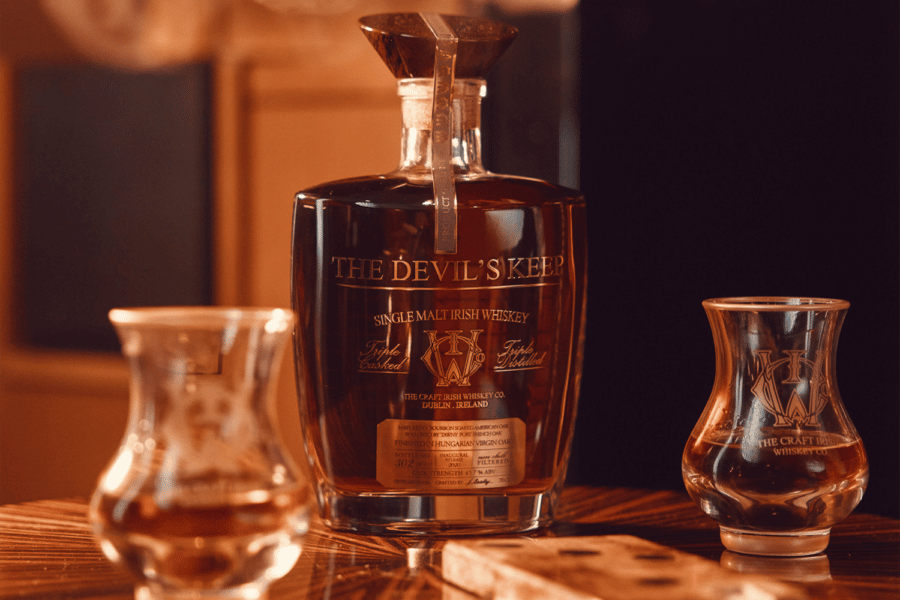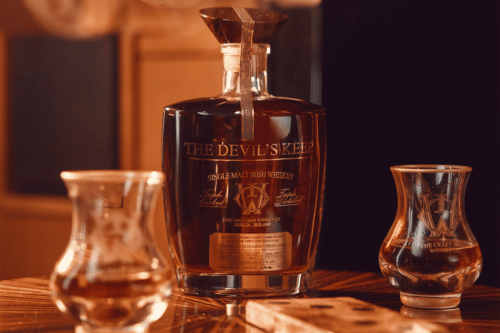 TASTE
Nose: Rich aromas of a traditional Christmas cake and Vermont maple syrup lead into powerful notes of ripe banana and sherry-soaked raisins with hints of dark chocolate adding depth.
Palate: Sweet golden honey mingles with Amarone and accents of dark cherries to add a velvety softness balanced by a dusting of rich dark chocolate to round off the palate. Rich and warming, yet fresh and well-balanced, with a subtle sweetness and a rich texture.
Finish: A long and viscous finish, with the lingering warmth of maple syrup and chocolate. Rich and oily, but not overwhelmingly so, and underpinned with a slightly dry finish, providing an indulgent and inimitable impression that remains on the taste buds.
---




By Master Of Whiskey, Jay Bradley
As my inaugural whiskey, a lot rested on the shoulders of The Devil's Keep. It had to pack a punch, both in terms of flavour and design. I wanted chocolate, leather, tobacco and campfire smoke; but it also had to reach a near impossible score on my personal tasting scale – I won't release a whiskey until I feel it has become 'a unicorn whiskey', scoring above a 9.1. But this is so rare, that the odds were stacked against The Devil's Keep. 

But restoring Irish whiskey as a global leader would take a whiskey unlike any other, and that mission was at the back of my mind throughout the years it took to craft The Devil's Keep. I took a whiskey that had been in Bourbon casks, and put it into French Oak casks that had previously held Tawny Port for over seven years. But not just any Tawny Port casks, these were personally sourced from a specific bodega, and chosen for the perfect level of sweetness that I knew The Devil's Keep needed.

I tasted it regularly during its time in these casks, and found it needed more chocolate so moved it to Pedro Ximenez casks for a short while. It then had the chocolate, raisins, and leather and was scoring 9.1; I could have released it and it would have been an incredible whiskey. But it was missing the campfire smoke to round out the raisins and chocolate I was getting on the mid-palate. As we say, we spare no expense in the pursuit of perfection, so I had two virgin Hungarian Oak barrels custom-made and shipped to Ireland. I then had them deep-stave toasted for 59 minutes. To do this, the fire must be at a certain distance to allow it to caramelise the wood sugars and bring a sweet smokiness to the whiskey. But then it was a case of watching carefully, tasting regularly and ensuring the barrel didn't impart too much of this smoke and ruin the whiskey. 

After just 14 days, it was ready. Of course, pulling The Devil's Keep from its barrels two weeks shy of 30 years isn't in keeping with the common notion of age statements as an indicator of quality. But I know that's not the case. When a whiskey is ready, when it's perfect, it's time to pull it. Waiting for an age statement risks ruining all that time, expense and work. 

It's like a chef, who watches, tastes and decides when a dish is ready based on flavour, not time. Coming from a family of culinary experts rather than a whiskey establishment, I've taken this path when it comes to making whiskey – it's ready when it's perfect, regardless of the age. Of course I should have left it to reach 30 years – it would have been 333 bottles of triple distilled, triple-casked whiskey so three decades would have been a marketer's dream. But that's not how perfect whiskey is made, and if it's not perfect, I won't release it!

And the proof is in the tasting; The Devil's Keep has gone on to win the highest accolades possible. It's a once-in-a-lifetime whiskey and one I'm extremely proud of. 








By Tiago Russo, Chief Design Officer
Designing The Devil's Keep was, in a way, a fairly unorthodox process. Fusing the whiskey intellect and vision of Jay Bradley and my own innovative, perfectionist design methodology, it began with one brief from Jay; "to create the best and most luxurious whiskey that Ireland has ever seen."

It was a blank canvas, with the highest stakes. As a designer, it's not often you're given the opportunity to become so fully immersed in a project, and given the freedom and time to create an item of such calibre, such perfection. The ultimate goal was to bring, through a sensorial journey, not just a luxurious product to look at and to taste, but an immersive experience that triggered all the senses to tell a story and convey the epochal significance of this whiskey.

So every material, every detail, had to be singularly present: the dark oak throughout, setting the mood and the absorption of colour, the geometric gold details that strike the eye, bringing light to the immense darkness of the wood, while the rich, dark burgundy interior helps to refract the natural colours of the whiskey. Each component tells a story. Scent, colour, flavour, texture, sound; The Devil's Keep combines all of them into an intuitive experience, not just to taste, but to truly feel the passion and dedication that combined to create this ultra-rare, luxurious, collectible whiskey. 

Design should never be just about the aesthetics, nor should it be solely about the functionality. It's the balance of usability, pleasure, and the ability to meaningfully interact with the user that lies behind great design. The Devil's Keep is the epitome of that meaningful interaction. And I'd say that was shown by its historic win at the A'Design Awards 2021 when it became the first ever whiskey to win a Gold. As a designer, these awards are the pinnacle of excellence, and this award was recognition of all the work and long hours that we'd poured into The Devil's Keep.




AWARDS




After selling out in record time and claiming the title as the most expensive inaugural whiskey sold at auction, The Devil's Keep is now winning awards across the board for taste, design and packaging.
World's Best Single Malt Irish whiskey from the World Whiskies Awards 2022, Gold from The A'Design Awards, a Gold medal from the IWSC Competition, a win from the Luxury Packaging Awards and Gold from The Spirits Business Luxury Masters Awards honour the obsessive perfectionism that crafted The Devil's Keep.
Triple distilled and triple casked in American, French and Hungarian Oak for peerless bourbon, tawny port and stave-toasted accents.
A sophisticated interplay of climate, cask and time. An alchemy to usher in a new golden age of craft whiskey from Ireland. Respectful of tradition but charting its own path; this is an epoch-defining whiskey of note.
THE DEVIL'S KEEP WHISKEY PRICE
€10,000.00
TAXES & SHIPPING NOT INCLUDED
Join The Waitlist
EXPERIENCE THE DEVIL'S KEEP
Complementing the rare, triple distilled 1991 whiskey, The Devil's Keep's box reveals two expertly engineered Érimón glasses, a carafe of Irish spring water, semi-precious obsidian whiskey stones from the mountains of Armenia, a 24k karat gold water pipette and an atomizer containing the essence of the whiskey captured by expert perfumer, Sarah McCartney.