Crafting a Fabergé Celtic Egg
---
Journal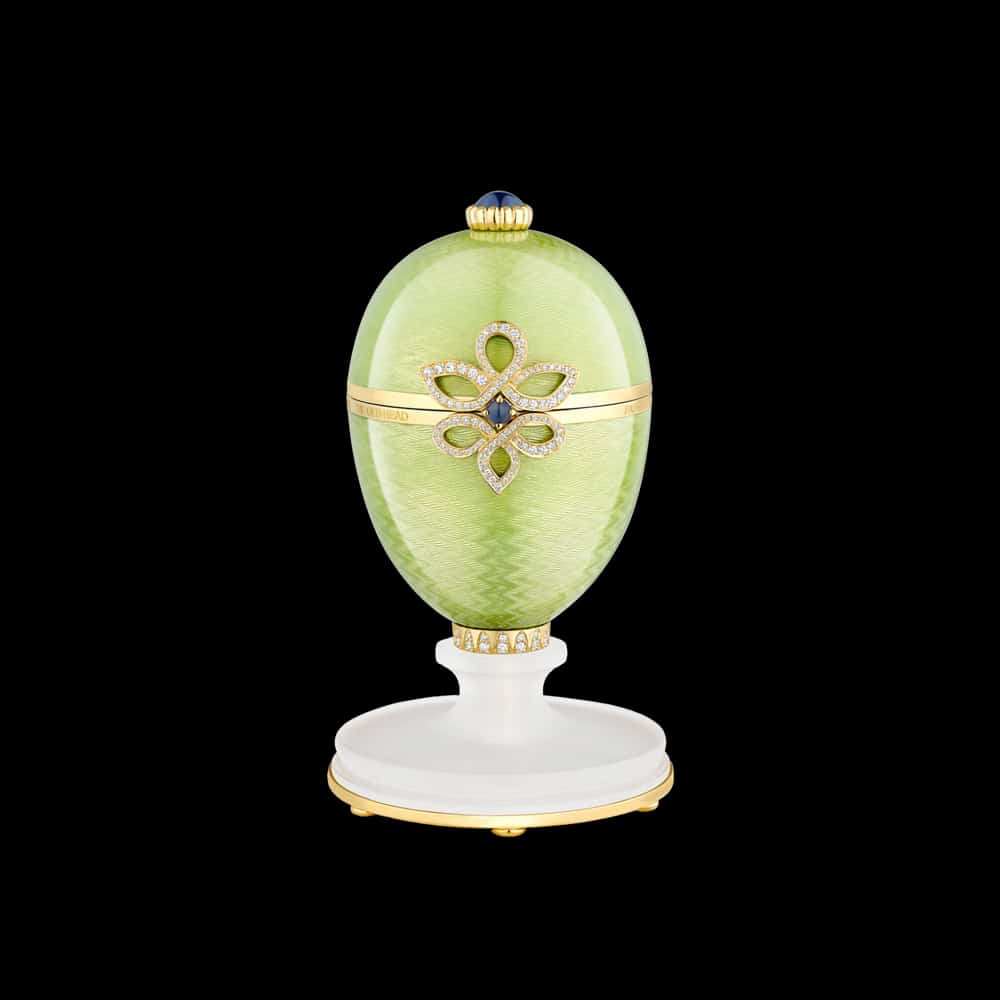 Our record-breaking second release, The Emerald Isle, has made waves across the world both for its rarity – the oldest and rarest triple distilled single malt in the world – and its artistry. Featuring the world's first Celtic Egg from Fabergé, The Emerald Isle is a breathtaking example of the innovative and forward-thinking approach of The Craft Irish Whiskey Co. paired with Fabergé's traditional craftsmanship and exquisite skill. Here we share with you a mesmerising behind-the-scenes glimpse of the journey from raw gold to finished Celtic Egg.
Each unique Celtic Egg has been skilfully and tenderly moulded from 18k yellow gold into the instantly recognisable Fabergé shape. The signature Guilloché enamelling honours Ireland with green, white and gold to symbolise the Irish flag, while a pavé diamond Celtic knot represents eternity in love and friendship. In a historic first for Fabergé, an uncut emerald lies within. Allowing the carefully curated, one-of-a-kind nature of The Emerald Isle to endure, the owner can commission Fabergé to work this into a bespoke piece of jewellery.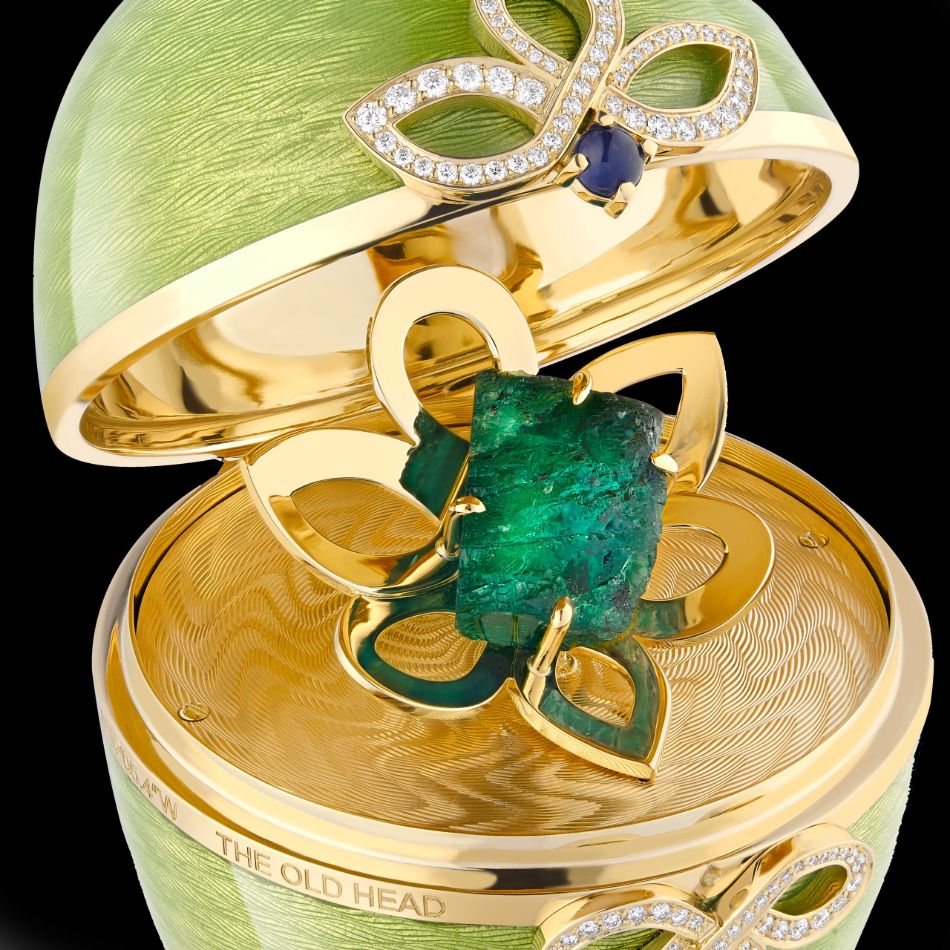 The video explores the intricate detailing and exceptional skill that has gone into each of the seven Celtic Eggs. From the gold sheets that are rolled on a lathe and encouraged into an egg shape with a handheld steel tool, to the engraving that takes half a day, the process takes years to master. Once each half cup is beautifully engraved with Fabergé's signature symmetrical wave pattern, they're ready for the famous vitreous enamelling.
Layers of enamel paste are applied using tiny brushes. Each layer takes one hour and the egg is then fired in a kiln at 800 degrees Celsius for approximately two minutes before being left to cool. The process then begins again. Throughout, the egg will be continually inspected for imperfections that can be removed and perfected before the next layer. A final hand-polishing and firing complete the enamelling process.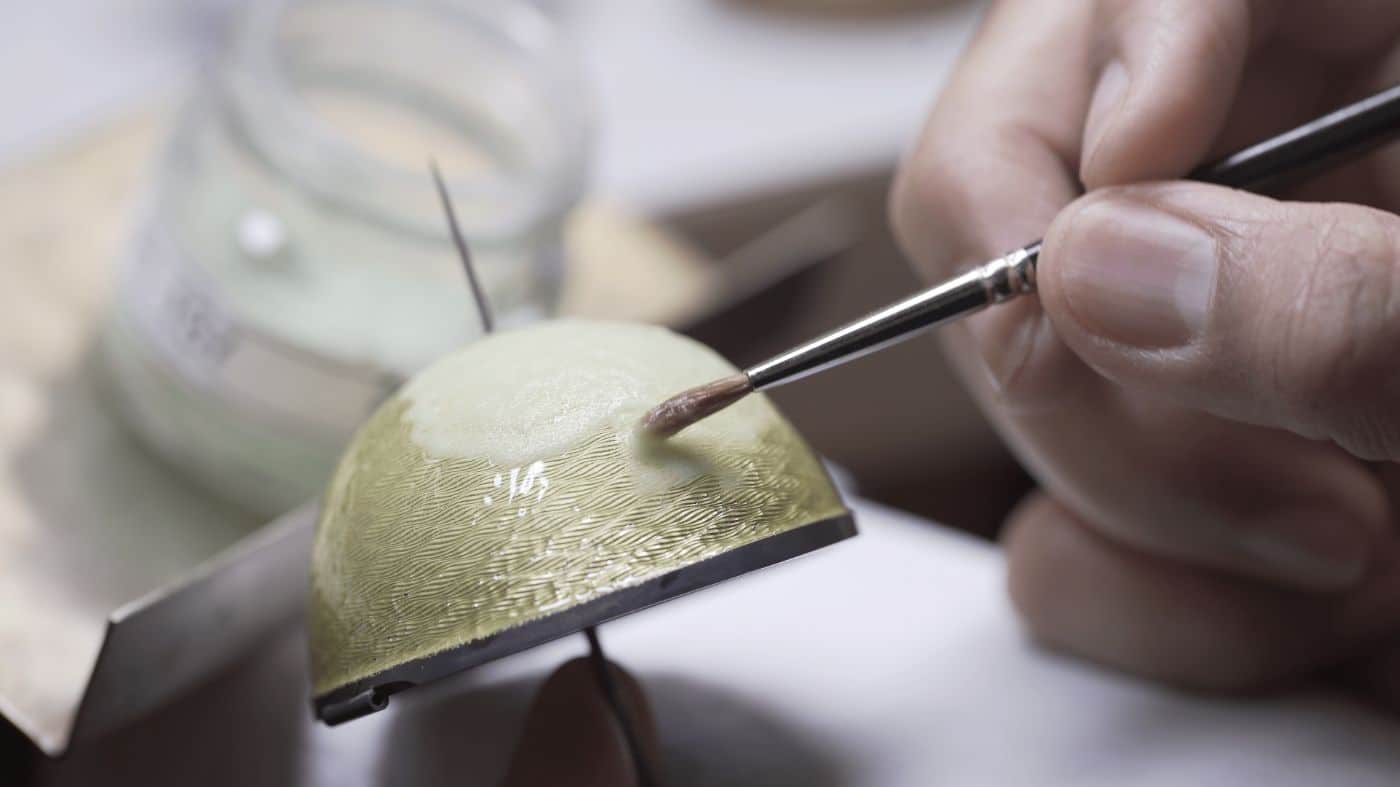 Once the egg itself is complete, the goldsmith can add their magic. The Celtic knot is carefully retouched, ensuring its curve gently follows the contour of the egg. Diamonds are delicately set in place before their surrounds are engraved with a scissel. The Zambian emerald that sits at the heart of the egg has its own unique gold claw fitting, designed to complement the natural shape of the emerald. The egg can finally be assembled, each of its exquisitely crafted components coming together in an expression of true artistry.
This masterful collection of handcrafted objets d'art and extraordinarily rare whiskey has elevated Irish whiskey as a collectible of the finest order. It is a celebration of tradition, heritage and exquisite artistry, combined with the dynamic reimagining of whiskey as an ultra-rare, luxury investment. In their dedication to crafting a lasting legacy, Fabergé and The Craft Irish Whiskey Co. have created a collection that will be remembered for centuries to come.
Watch The Video Here