GQ India places The Emerald Isle in its list of rare whiskeys for collectors
---
Journal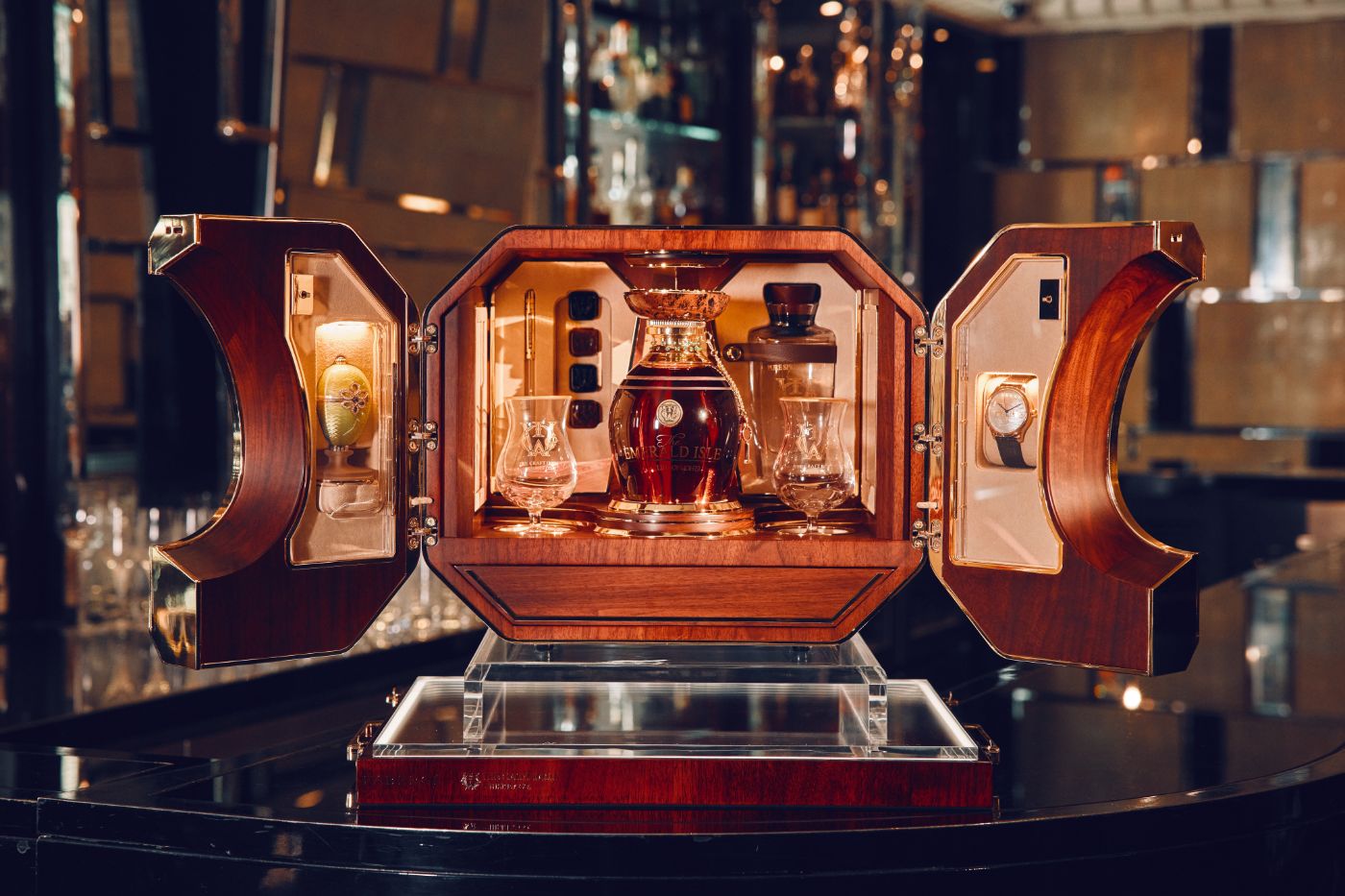 It's almost a year since the first bottle of The Emerald Isle sold at auction for $2,000,000 but it's still making waves amongst the whiskey community and beyond. GQ India recently featured it at the top of the list of 'Rs 14 crore whisky bottles & 4 other rare and most expensive whiskey bottles for those who have the collector's eye'. Having taken the top spot from The Macallan Fine & Rare as the most expensive whiskey in the world, The Emerald Isle is sought-after by collectors around the world, but with only seven collections ever released and only two remaining, it's in short supply.
As GQ India notes, the original liquid was sourced from the world's oldest distillery, Bushmills. But it's the journey that whiskey then took that transformed it from a great whiskey into a truly exceptional one. Drawing on a skilled appreciation for flavour and understanding of the effect of wood on the flavour of whiskey, The Emerald Isle took a bespoke course. Matured in 200l American bourbon barrels for the first fill, The Emerald Isle was then finished in rare 40I Pedro Ximenez sherry casks. It's this journey that imbued it with the nuanced, rounded flavour profile for which The Craft Irish Whiskey Co. has become known.
From the type of barrel to how the staves were treated, we spare no expense to source and treat the finest barrels. We underfill those barrels, allowing maturation to begin at once rather than waiting for the Angels' Share to evaporate, and we add water during maturation rather than before bottling which would dilute the rich flavours and viscosity. Whiskey in the cask is a living, breathing entity so we don't rely on an age statement and instead taste the whiskey regularly to catch it at the peak of perfection. The craft doesn't end once the whiskey is bottled. Just as a Michelin starred restaurant elevates the experience, so we surround our whiskeys with accessories that enhance the appreciation of the flavour and aroma.
In addition to the Fabergé Celtic Egg – the first in the world, the ultra-rare Cohiba Siglo VI Gran Reserva cigars and a 1/1 bespoke Fabergé watch, The Emerald Isle Collection included our Finn glasses which have been scientifically designed to remove the ethanol vapours that burn the nose and hinder the enjoyment of the whiskey. That same scientific approach was applied to the pipettes to calculate the perfect amount of water to break open the spherical micelles that trap some of the flavour compounds, releasing them and adding more notes to the whiskey.
As GQ India states, the proceeds from the $2,000,000 auction of the first collection of The Emerald Isle were donated to The Correra Family Foundation. Subsequent collections were sold throughout 2021 for upwards of $3,000,000. Just two remain.